Our services
Installation of plastic windows and doors (our main content)
Interior and exterior window sills
Installation of horizontal, vertical blinds
Assembly mosquito nets
Installation of roller shutters and blinds
Garage Door Installation
bricklaying windows and doors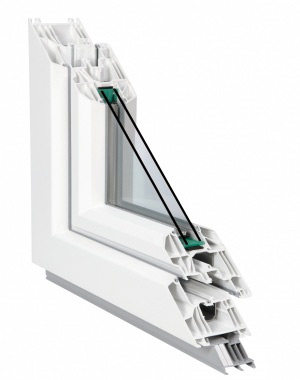 Plastic windows Inoutic Prestige
Plastic box of 76 plastic profile Inoutic Prestige in design with protruding wing shape and optically gives the impression of a wooden box (of course if a suitable choice of colors – wood pattern).
6-chamber plastic box with 76 Roto NT is suitable for family, apartment buildings, as well as for users who are looking for variety of shape reminiscent of an earlier wooden windows. The windows are also suitable for industrial buildings.
If you are interested in the price of plastic windows send us the required size and then receive a quote vinyl windows for your apartment or house-to-measure.
Plastic windows GEALAN 7000+ IQ (hanging profile)
Frame with 83 mm construction depth offers significant advantages! There you can fit everything makes a strong profile. First of all, the six chambers that provide excellent protection from the cold and noise. In particular, the middle seal system S 7000 IQ plus the heat transfer coefficients as low as the value of Uf = 0.98 W / m² K. This will significantly reduce heating costs and CO2 emissions. With its 83 mm also provides increased strength corners and higher stability window. Large steel reinforcement also ensures high stability profile and stable base for fitting – this is a big benefit of the new S 7000 IQ plus in terms of protection against penetration / burglary.
Plastic windows GEALAN 8000 IQ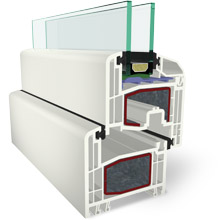 S 8000 IQ demonstrated a consistent orientation GEALAN market needs. The design of this system to stop sealing and structural depth of 74 mm, the company concentrated on economic efficiency and optimization of material consumption – for a smooth and cost-effective processing of the manufacturers of windows.
Properties
Excellent thermal insulation.
very good stability due to large steel stiffeners in the frame and sash.
High comfort due to large groove of the frame.
optional flat indented design with bevelled double glazing bead or indented poloplošně design with round glazing bead.
Plastic windows LUXOR NORDIC (Termolux)
Windows NORDIC LUXOR series are produced using the latest technology on its own 7-chamber profile system LUXOR. Their advantages include high strength and elasticity along with shape and color fastness. Excellent insulating properties guarantees the resistance to weathering and aggressive weather. With a wide selection of shapes, layout and colors to suit any architectural project. Profile system LUXOR is a modern 7-chamber system made of grade A quality and clean plastic. Width of main runners 75 and 80 mm and seven distribution chamber is designed so that the heat transfer profile is minimized. The profile system is manufactured in the Czech Republic, Czech entirely of materials, Czech workers.
Properties
Profiles: This is a 7-chamber frame with Class A insulation properties Uf = 1.1 W/m2.K of PVC without any additives with depth 75 mm and a huge galvanized steel reinforcement in all parts of the frame and sash, which is designed based on calculations for the dimensions of the elements
Glass: standard with double glazing Ug = 1,1 W/m2.K a surcharge can be fitted with triple glazing thickness up to 40 mm with Ug = 0,5 W/m2.K
Seals: two peripheral permanently flexible seal (one on the frame, one on the wing) for a perfect seal against water and weather in gray or black
Forging: Forging ActivPilot German Winkhaus, whose octagonal locking system with locking pin and security guarantees optimal tightness
Plastic windows ALPSTEINER bluEvolution®
ALPSTEINER bluEvolution ® windows are made of high-profile German manufacturer Salamander Industrie-Produkte GmbH and since its introduction in 2010, the tip of the plastic windows on the European and world markets. Besides the classical and elegant appearance is one of their strengths especially heat-insulating properties – in suitable glazing can be achieved by a heat transfer coefficient at the box Uf = 0.8 W/m2.K. Are standard windows with triple glazing isolačním heat transfer coefficient Ug = 0.5 to W/m2.K. Structural and mechanical properties of windows are enhanced by the unique geometry of the inner chambers and solid galvanized steel frame and fitting the wing. Safety First provides perimeter security hardware Winkhaus aktivPilot with adjustable micro-ventilation and closing with three extra points. Profile bluEvolution ® made from high quality plastic designed especially for passive and low-energy buildings. Typical is its robustness, which is down to superior construction depth of 92 mm in the frame and sash, and the overall visual height of 118 mm. The heat transfer coefficient of the profile is on the edge of technical feasibility – Uf = 1.0 W/m2.K and using termovýstuže even Uf = 0.9 W/m2.K. Especially for this purpose developed inner surface of the profile allows to use for glazing panels with thickness up to 60 mm, without compromising its mechanical properties.
Properties
Profiles: 6-chamber profile with insulating properties Uf = 1.0 W/m2.K (using termovýstuže Uf = 0.9 W/m2.K) and construction depth of 92 mm
Glass: standard with triple glazing with heat transmission coefficient of glass Ug = 0.5 to W/m2.K
Seal: peripheral permanently elastic sealing of its original shape memory for perfect sealing against water and weather in gray or black + center seal
Fittings: Winkhaus aktivPilot with adjustable micro-ventilation and closing with three extra points satisfying the most demanding requirements for stability, security and functionality
ENTRANCE DOOR
The complete menu can be found on the links of our suppliers are …
Our other services